Published on 3 May 2016 (Updated 5 October 2023)
Many actions must be implemented to maintain the reputation and visibility of one's business, organization, or company. These actions must be in line with the advances of Google.
Launched in June 2014, Google My Business centralizes all information related to your business within a single interface.
A tool for geolocalized referencing
Google My Business is an interface that is primarily aimed at local businesses and replaces these two former Google services:
Google Addresses: This service allowed our business to show up in Google Maps and to appear more easily in Google search results
Google + Local: This service allowed us to create a card with our business's name and to share our latest news.
This merger offers local businesses a simplified management of their presence on the Google search engine. Faced with an upsurge in mobile searches, the percentage of Internet users (97%) performing an online search, and highlighting local businesses, Google has come up with this tool, which is easy to use.

A presence on the web
Internet users are likely to search for your business online for information. Google My Business offers you an extra presence on top of the existing one on its search engine.
In this way, users find more information about you (contact information, opening hours, photos, reviews, directions, description, phone, website …) using your business listing.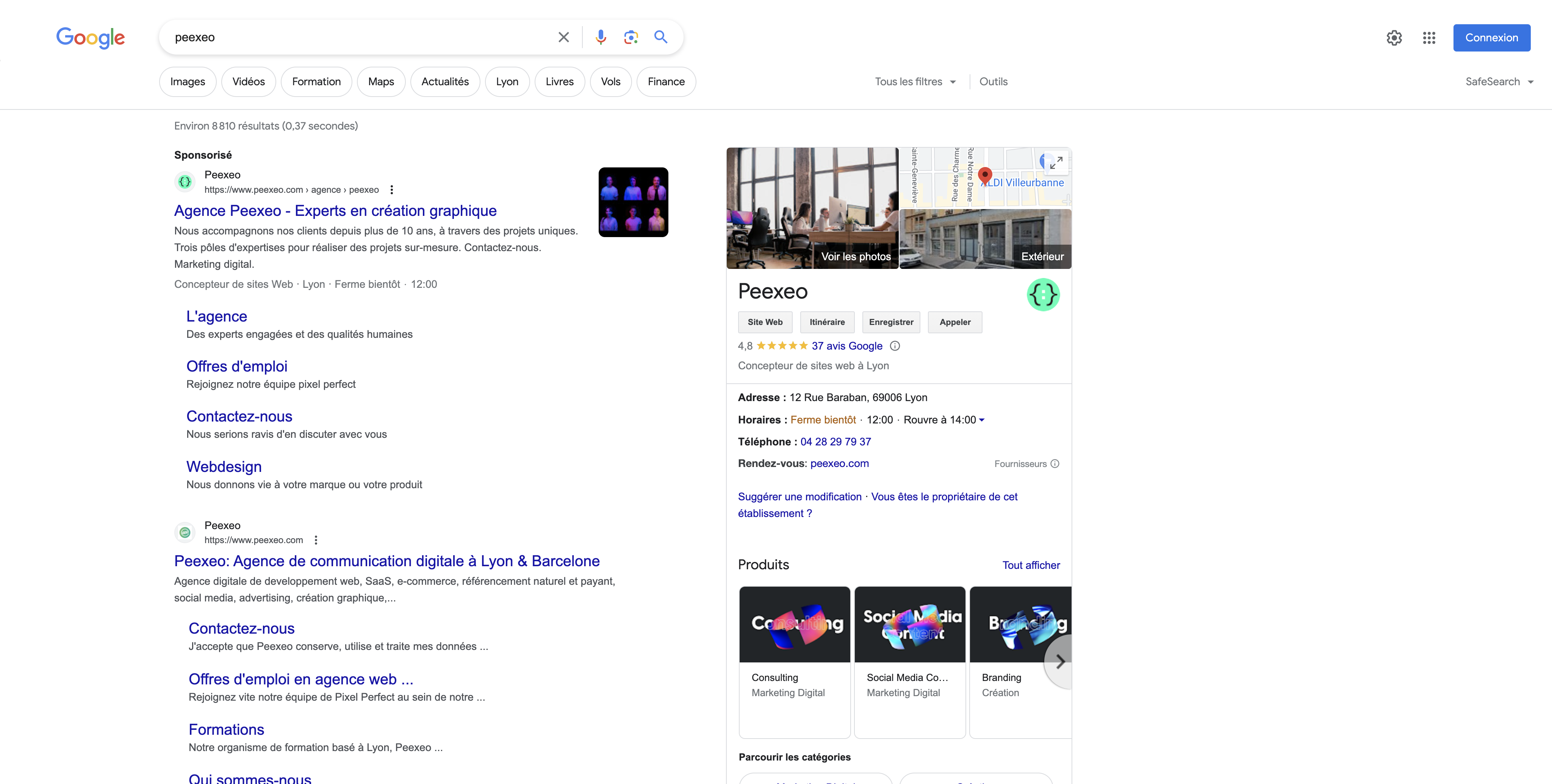 In addition to appearing on Google search results when someone searches for your business, you have visibility on Google Maps. This feature allows your potential customers to see the itinerary leading to your business.
Your information can be updated as much as you want. You also have the possibility to add photos, services, descriptions…
Google My Business is adapted to all media, so users can find you online from a computer, a mobile, or a tablet. The advantage is that they can discover you easily while on the move on all types of devices.
Highlighting the news and the company life
The Google My Business interface reinforces the interactivity between you and your customers. This allows you to share information and respond to their comments. Google My Business gives you the possibility via the Google + platform to publish your news, your latest events or specific offers. Bringing your Google+ page to life through posts or showcasing your products and services with photos or videos is a significant option.
Google My Business supports companies and facilitates their efforts to create a community, get recommended by their customers, and discuss with them.
Google My Business was originally designed for small and medium-sized businesses, but the tool can be adapted to any type of business as long as the service is localized.
A short summary of the benefits
An appealing visibility on the Google search engine that promotes your business.
A responsive design page.
A lever for improving your natural referencing. A well-positioned page offers traffic and might generate potential conversions.
The implementation of Google My Business requires the creation of a Google + account but it is beneficial to support your visibility and allow users to have information about your company if you do not have a website.
Instructions manual
Follow the steps below to make your company visible in the cities or regions where you develop your activity. The objective is to reach your customers at the moment they need your services on Google. The implementation is free and accessible to everyone.
First of all, you must know that a Google account is required in order to use this service. It is possible to create one easily and without any cost.
Step 1:
Go to the Google My Business website
Step 2:
Click on one of the call to action buttons "Register your business on Google".
Step 3:
Follow the instructions on Google Maps and search for your business by entering its name and address.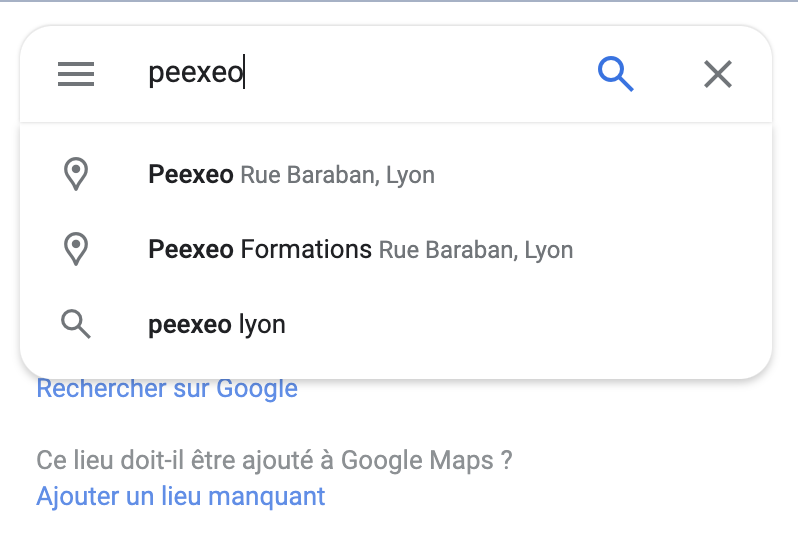 Step 4:
Once found, you will need to claim ownership of your business. Add your establishment if the display option does not match.

Step 5:
Create or connect to your Google+ page ( it is mandatory to have a Google My Business account)
Step 6:
Click on "Continue" after checking the box "I am authorized to manage this business and I agree to the Terms of Service"
Step 7:
It is possible to postpone the account validation step by clicking on "Continue and Validate later". It gives you the opportunity to complete and personalize your account before validating it.
Filling in your Google My Business profile
The information that will be integrated into your profile will be visible on Google Maps as well as on your company's page on the social network Google +.
Google My Business will inform you of the progress of your profile based on what you have filled out. We advice you to be as clear and concise as possible.
Name of the establishment
Address
Phone number
Website
Category: find the one that corresponds the most to your business
Opening hours
Presentation of services
Photos: Do not hesitate to put photos of your company such as logo, frontage, team members to be more easily identifiable.
Once the information is entered, click on the blue button "modifications completed"
Validating your profile
Finally, once the profile is completed, your form must be validated.
A large red banner indicates that your file must be validated to appear in the search results. Click on the "validate now" button.

The Google Map page will appear and you will be offered two options to validate your listing:
Send you the code by mail (Wait 5 to 15 days for the mail from Google with the validation code). Once you receive the mail, go back to your Google My Business account and enter the code.
Call you on the phone number that appears on your listing, in order to communicate the validation code.
If these steps have been done properly, your listing will be online and will be visible in the Google search engine a few days later.
Regulations to respect
Google has the power to offer you this service so it also has the power to deactivate your My Business page if it does not respect the rules.
Therefore, it has recently launched a wave of deletion and/or suspension of the Google My Business page against local businesses that use the account in a fraudulent way.
Instructions for page representatives
At the end of 2014, Google clarified and tightened the terms of use for Google My Business pages.
In 2016 Google clarified the role of the legal representative for the Google My Business page. It can be SEO providers, web agencies, freelance referencers…It invites companies in charge of managing their Google My Business page to be more transparent and warns them if they are inclined to set up a referencing scam.
The new Google guidelines state that only owners or authorized representatives can validate and manage their Google My Business account information.
Commitments of Authorized Representatives
It is forbidden to claim ownership of an establishment without the consent of the owner.
Account information must be realistic.
Abusive, deceptive and harassing tactics are prohibited.
The business owner must be notified of the various actions taken on his My Business account, especially regarding the final validation of the establishment.
Authorized representatives must share the various resources that Google makes available to Internet users with the owners of the establishments that they manage:
1. Introduction to Google My Business
2. Editing your business information
3. How Google uses your information
4. A third party has validated my business
As demonstrated, you can now improve your visibility through using this tool. You can also entrust us with this task since Peexeo is in charge of the Google My Business account management for its customers.
Do you want to know more about natural referencing? Send us a message and let's see what we can do together! 🙂